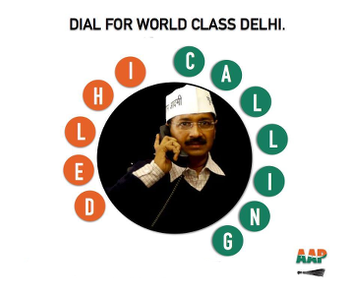 CALLER LEADERBOARD
| # | Caller | Calls |
| --- | --- | --- |
| | Hyderabad Gomathy Vallyammal | 1667 |
| | Navi Mumbai DevKaran | 980 |
| | Navi Mumbai Rakesh Dwivedi | 822 |
| 4 | Navi Mumbai Anamika Chakrabort | 723 |
| 5 | ajinkya shinde | 662 |
| 6 | Navi Mumbai Jay Agarwal | 565 |
| 7 | Sanjeev R.Jindal | 552 |
| 8 | Shyam Panjwani (USA) | 472 |
| 9 | Bashir A Thakur (Qatar Team) | 450 |
| 10 | Navi Mumbai Devendra Saini | 424 |
What is the Citizen Call Campaign?
A Tele Door-to-Door Campaign meant for those AAP supporters who cannot campaign on the ground.
Volunteers
(Worldwide)

CALL
A Delhi Voter

INFORM
AAP & Delhi Elections

APPEAL
Vote for AAP

Voters
(Delhi)
Register and login to get detailed instructions on how to interact with voters.
You will then get voter numbers to call directly with your phone.
Leaders Today
Leaders Yesterday
| # | Caller | Calls |
| --- | --- | --- |
| | Navi Mumbai Rakesh | 125 |
| | Sanjeev R.Jindal | 111 |
| | mayank gandhi | 100 |
| 4 | Hyderabad Gomathy V | 65 |
| 5 | mohan chhabra | 36 |
| 6 | shirin suratwala | 32 |
| 7 | huzefa I suratwala | 31 |
| 8 | Atul Shekhada | 26 |
| 9 | Abraham | 21 |
| 10 | Ashish gautam | 20 |