What is Citizens Call Campaign ?
A Tele Door-to-Door Campaign Especially for those AAP supporters who
might not be able to campaign for Aam Aadmi Party on-location
Volunteers
(Worldwide)

CALL
A Voter

INFORM
AAP & Lok Sabha Elections

APPEAL
Vote for AAP

Voters
(India)
Active Call Campaigns (Please Choose)
Citizens Call Campaign
Are you unable to travel to India to campaign for Aam Aadmi Party?
You can play a large role in AAP´s success by registering for the Citizens Call Campaign.
Participate from anywhere around the world.
Just register and start making calls !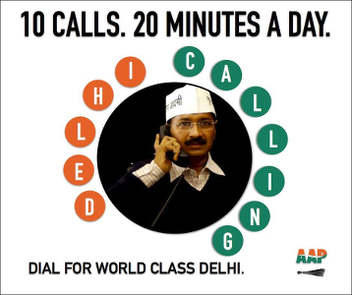 Leaderboard All-Time
| # | Caller | Calls |
| --- | --- | --- |
| | Shyam Panjwani (USA | 2647 |
| | Arockia Xavier | 2604 |
| | Manifaro | 2559 |
| 4 | Rohit shokeen | 2341 |
| 5 | Parwaz Virk | 1896 |
| 6 | Rakesh Dwivedi | 1719 |
| 7 | Lovyraj Shivhare | 1683 |
| 8 | KAMAL LADDHA | 1642 |
| 9 | Prabodh Ahire | 1604 |
| 10 | Sastry | 1533 |